Pulmonary Program at River Terrace Rehab
Our specialized Pulmonary Rehabilitation Program provides the most effective treatment to help post-acute patients with respiratory conditions recover and return home to live life at the fullest possible.
Areas of excellence that distinguish our PULMONARY PROGRAM:
Renowned and highly specialized pulmonary team led by our Pulmonary & Critical Care Medical Director Corey Saltin, DO, FCCP
Respiratory Therapist on staff
Tracking of common metrics with root cause analysis to minimize the progression of debilitating symptoms by combining exercise, breathing retraining and dietary management
Complex pulmonary case management
Interdisciplinary coordinated effort and continuous communication between all involved parties, including hospital, practitioner, SNF, Home Health, Outpatient Services and most important of all – the patient
Comprehensive technology, BiPAP and state-of-the-art pulmonary rehabilitation equipment
Regular coordinated follow-up post discharge by our respiratory staff and nurse practitioner, including monitoring program compliance, physician visit adherence and potential need for additional education and/or support
When families and patients better understand their conditions, they can enjoy independence and improved quality of life.
---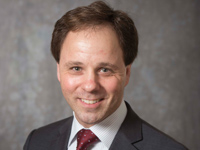 Corey Saltin, DO, FCCP: Board certified in Internal Medicine, Pulmonary Disease and Critical Care Medicine, Dr. Saltin received his medical degree from the University of New England College of Osteopathic Medicine in Biddeford, Maine. He completed his residency and fellowship training at UMass Memorial Medical Center/UMass Medical School where he served an additional year as Chief Internal Medicine Resident. Currently, Dr. Saltin is the Medical Director of the Department of Respiratory Therapy and Pulmonary Function Lab for UMass Memorial HealthAlliance Hospital. Dr. Saltin is a fellow of the American College of Chest Physicians. He lives in Grafton with his newborn son Marco and wife Dina Deldon-Saltin who is a local Obstetrician. Dr. Saltin's particular areas of interest include management of patients with COPD, asthma, sleep disorders and critical care medicine.